Posts for tag: oral hygiene
By Asuncion Dental Group
January 08, 2019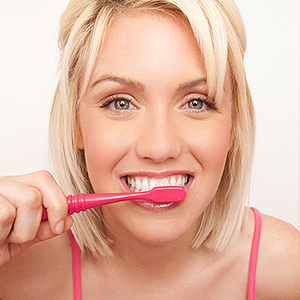 For most of us, brushing and flossing is a routine part of daily life. But has it become such a routine that you may not be getting the most out of your daily regimen?
First, let's be clear about what you're trying to accomplish with these two important hygiene tasks, which is to remove as much accumulated dental plaque as possible. This thin film of bacteria and food particles is the primary cause for both tooth decay and periodontal (gum) disease.
So how can you tell if you're effectively cleaning dental plaque from your teeth? Here are 4 ways to check your brushing and flossing skills.
The tongue test. Move your tongue across the surface of your teeth, especially at the gum line, immediately after brushing and flossing. "Plaque-free" teeth will feel smooth and slick. If you feel any grittiness, though, you may be missing some plaque.
Floss check. For a similar effect after your daily hygiene take a fresh piece of floss and run it up and down your teeth. If the teeth are clean and you are using un-waxed floss, the floss should "squeak" as you move it up and down.
Disclosing agents. You can also occasionally use a plaque disclosing agent. This product contains a solution you apply to your teeth after brushing and flossing that will dye any leftover plaque a specific color. Disclosing agents are handy for uncovering specific areas that require more of your future hygiene attention.  And don't worry—the dye is temporary and will fade quickly.
Dental visits. For the ultimate test, visit your dentist at least twice a year. Not only can dental cleanings remove hard to reach plaque and calculus (hardened tartar), but your dentist or hygienist can evaluate how well you've been doing. Consider it your "final exam" for oral hygiene!
Be sure to also ask your dental provider for tips and training in better brushing and flossing. Becoming more effective at these critical tasks helps ensure you're keeping your teeth and gums free of disease.
If you would like more information on best oral hygiene practices, please contact us or schedule an appointment for a consultation. You can also learn more about this topic by reading the Dear Doctor magazine article "Daily Oral Hygiene: Easy Habits for Maintaining Oral Health."
By Asuncion Dental Group
December 09, 2018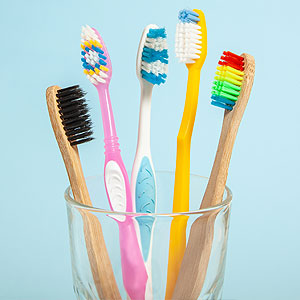 If there's one essential tool for protecting your dental health, it's the humble toothbrush. The basic manual brush with a long, slender handle and short-bristled head is still effective when used skillfully. The market, though, is full of choices, all of them touting their brand as the best.
So how do you choose? You can cut through any marketing hype with a few simple guidelines.
First, understand what you're trying to accomplish with brushing: removing dental plaque, that thin film of bacteria and food particles on tooth surfaces that's the main cause of dental disease. Brushing also stimulates gum tissue and helps reduce inflammation.
With that in mind, you'll first want to consider the texture of a toothbrush's bristles, whether they're stiff (hard) or more pliable (soft). You might think the firmer the better for removing plaque, but actually a soft-bristled brush is just as effective in this regard. Stiffer bristles could also damage the gums over the long term.
Speaking of bristles, look for those that have rounded tips. In a 2016 study, less rounded tips increased gum recession in the study's participants by 30%. You should also look for toothbrushes with different bristle heights: longer bristles at the end can be more effective cleaning back teeth.
As far as size and shape, choose a brush that seems right and comfortable for you when you hold it. For children or people with dexterity problems, a handle with a large grip area can make the toothbrush easier to hold and use.
And look for the American Dental Association (ADA) Seal of Acceptance, something you may have seen on some toothpaste brands. It means the toothbrush in question has undergone independent testing and meets the ADA's standards for effectiveness. That doesn't mean a particular brush without the seal is sub-standard—when in doubt ask your dentist on their recommendation.
Even a quality toothbrush is only as effective as your skill in using it. Your dental provider can help, giving you tips and training for getting the most out of your brush. With practice, you and your toothbrush can effectively remove disease-causing plaque and help keep your smile beautiful and healthy.
If you would like more information on what to look for in a toothbrush, please contact us or schedule an appointment for a consultation. You can also learn more about this topic by reading the Dear Doctor magazine article "Sizing up Toothbrushes."
By Asuncion Dental Group
June 11, 2018
Everyone knows that in the game of football, quarterbacks are looked up to as team leaders. That's why we're so pleased to see some NFL QB's setting great examples of… wait for it… excellent oral hygiene.
First, at the 2016 season opener against the Broncos, Cam Newton of the Carolina Panthers was spotted on the bench; in his hands was a strand of dental floss. In between plays, the 2105 MVP was observed giving his hard-to-reach tooth surfaces a good cleaning with the floss.
Later, Buffalo Bills QB Tyrod Taylor was seen on the sideline of a game against the 49ers — with a bottle of mouthwash. Taylor took a swig, swished it around his mouth for a minute, and spit it out. Was he trying to make his breath fresher in the huddle when he called out plays?
Maybe… but in fact, a good mouthrinse can be much more than a short-lived breath freshener.
Cosmetic rinses can leave your breath with a minty taste or pleasant smell — but the sensation is only temporary. And while there's nothing wrong with having good-smelling breath, using a cosmetic mouthwash doesn't improve your oral hygiene — in fact, it can actually mask odors that may indicate a problem, such as tooth decay or gum disease.
Using a therapeutic mouthrinse, however, can actually enhance your oral health. Many commonly available therapeutic rinses contain anti-cariogenic (cavity-fighting) ingredients, such as fluoride; these can help prevent tooth decay and cavity formation by strengthening tooth enamel. Others contain antibacterial ingredients; these can help control the harmful oral bacteria found in plaque — the sticky film that can build up on your teeth in between cleanings. Some antibacterial mouthrinses are available over-the-counter, while others are prescription-only. When used along with brushing and flossing, they can reduce gum disease (gingivitis) and promote good oral health.
So why did Taylor rinse? His coach Rex Ryan later explained that he was cleaning out his mouth after a hard hit, which may have caused some bleeding. Ryan also noted, "He [Taylor] does have the best smelling breath in the league for any quarterback." The coach didn't explain how he knows that — but never mind. The takeaway is that a cosmetic rinse may be OK for a quick fix — but when it comes to good oral hygiene, using a therapeutic mouthrinse as a part of your daily routine (along with flossing and brushing) can really step up your game.
If you would like more information about mouthrinses and oral hygiene, contact us or schedule a consultation.